The Six Levels of Perspective, Updated and Improved!
AUTHOR:
Francisco Sáez
The Six-level Model for Reviewing Your Own Work of GTD allows you to know what is the basis of your personal life and your work and, thanks to this, be clear about the priorities that should govern your decisions.
It is a hierarchical model of priorities in which each level should enhance and align with the ones above it.
Defining these six levels of perspective will help you understand what is important and what is not, to spend your time productively on the things that are worthwhile, and ultimately, to get you where you want to go.
Today we have updated the design of the Perspective section of FacileThings and incorporated a lot of improvements that I am describing below.
Level 1: Purpose and Principles
The concepts to which each level refers are often somewhat confusing and ambiguous, especially at higher levels. We have incorporated a small help text to refresh your memory when you need it (1).
At the first level, we have added a new Principles and Values section so that you can express and always keep in mind the principles and values that will determine how you do things. They will guide you when making decisions and facing any problem. Use the button (2) to add principles and values that support your life purpose (use the "save" button to save the data later).
Level 2: Vision
Defining the vision involves thinking about how you want to be in the future, both personally and professionally. At the very least, you will need a couple of statements for this.
You can create a new vision statement with the button (1) and edit the existing statements by clicking on an item in the list (2). When you have turned a vision into reality, you can mark it as "achieved" (3). The visions already achieved will appear in the list (4).
The number of Goals related to each Vision is displayed. By clicking on that link (5) you will be able to see those goals in detail (at level 3).
Level 3: Goals
The Goals section works in a similar way to the Vision one. The goals are shown grouped by vision. Make sure that each goal you define serves to bring you closer to one of your visions.
Each goal shows the number of projects and single actions associated with it. By clicking on those links you can see the projects (at level 5) and actions (at level 6) in detail. The goal deadline is also shown, if there is one.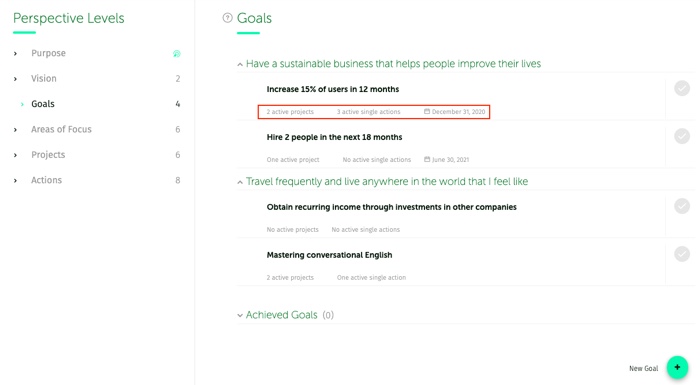 Level 4: Areas of Focus
The Areas of Focus level is the one that has changed the most — starting with the name, as we have changed Areas of Responsibility to Areas of Focus, the term David Allen uses most commonly in his latest GTD update.
This section works exactly the same as the Goals section, except that the Areas of Focus are grouped into two types, Life and Work, and some colors show up.
Areas of Focus cannot be "achieved" like goals and visions, as they are not temporary. But we have added the possibility of disabling them, in case one of them gets out of your life and you don't want to eliminate it completely.
Let's look at the Areas of Focus editor to understand this:
In addition to an extended description of unlimited length (which now also the visions and goals have), you can assign to each area what type of area is (1) and with what color you want to represent it (2).
All actions related to an Area of Focus will be shown in the lists with their color. It is important that you choose colors that fit well with you and are similar for related areas, so that your brain establishes patterns with respect to colors early and you can locate actions quickly. This is why we haven't randomly assigned colors to your areas of focus; we prefer that you do it.
An important impact of grouping Areas of Focus into two types is that you can now filter your entire personal management system by activities related to your work or your personal life:
In addition to filtering by individual areas, you can now filter all your actions and projects by life or work areas (1). Also, in addition to filtering by individual goals, you can now filter by a vision that contains multiple goals (2).
Level 5: Projects
The Projects section shows you all active projects (in progress or waiting) and a filter tool at the top so you can see which ones have an Area of Focus and/or a Goal assigned. Make sure everyone is associated with at least one higher perspective level.
In each project the percentage executed so far is indicated. You can mark as "completed" those that have no pending action. You can also edit any project by clicking on it.
Level 6: Actions
The Actions section shows you all active single actions, that is, those that do not belong to a project and that are in the Calendar (1), Next Actions (2) or Waiting For (3) lists. The icon to the left of each action indicates which list it belongs to.
Make sure your actions follow a higher level of perspective.