FacileThings: New GTD Dashboard!
AUTHOR:
Francisco Sáez
Developing the new Dashboard has taken us longer than we had anticipated because we have been very concerned about taking care of all the details related to the usability of this tool, but I think the result has been worth it. Well, a picture is worth a thousand words:
This new section of FacileThings has several objectives:
Help you do the Daily Review. Here you will only see the actions to be performed in the very short term. What do you need to do today? First look at the today's Calendar. There you must have the mandatory actions and events for the day. In the free moments, look your Next Actions and filter what actions you could be doing at the moment, according to the context in which you are and to your available time and energy.
Help you choose the next action. The fifth and final stage of the GTD workflow is Do (now called Engage). This tool allows you to choose the next action to do based on the GTD's four-criteria model.
Help you maintain good productive habits. We will show you reminders to do the Weekly Review or process your inbox when needed, and instructions to keep your system up to date.
Help you align your day to day with higher values. For your daily actions to be meaningful, they must be related to what is important to you. We have introduced information that will help you realize whether that alignment exists or not.
Introduce you new design elements. This is the first screen that incorporates the new design of FacileThings. Many of the design ideas presented here will be extended to the rest of the application, so your feedback about it will be important ;)
Your Daily Review, at a glance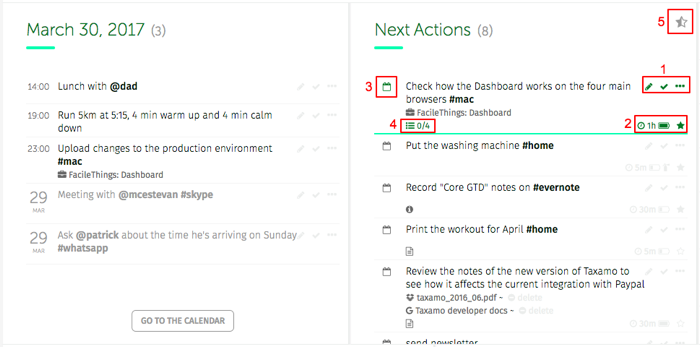 The left panel shows you the actions of your Calendar for today while the one on the right shows you the complete list of Next Actions.
At the end of the today's Calendar you will also see the actions and events that are pending from previous days. If they are finished, mark them as "done". If not, you should modify their date or, better, consider removing the date so that they become "next actions".
You can organize the actions in these panels just as if you were in the Lists section. When mousing over an action, all possible options will be activated: (1) Edit, do, and a menu with the other organizational options, (2) focus and assign the estimated time and required energy, (3) assign a date, and (4) view additional information like notes, check points, attached files, etc. You can also filter only the actions on which you have decided to focus these days (5).
Choose the next action
By clicking on "What to do now?" the tool to select the next action will show up:
You will see a list with all the contexts available in your Next Actions list (tags and people). Select the one you are interested in at this time and add available time and energy criteria if necessary. Actions filtering is immediate.
You will not overlook anything
The Reminders Panel on the right of the actions lists will show you information that may be relevant to your daily activity:
If you have not done the Weekly Review for too long.
If you have several stuff in the Inbox and you have not processed it for some time.
If you have notifications you have not seen yet.
If there are projects or goals with due dates nearby.
If you have delegated actions with due dates nearby.
If you have incubated stuff you need to be reminded.
Work with perspective
The chart about Areas of Responsibility shows you how you are spending your time and helps you realize which aspects of your life are not being addressed satisfactorily.
And keeping in mind what your life purpose is can be very motivating to face your daily work.